IPhone 7 3pin charging head
$0.00
Specifications of 3 Pin Plug Charger Adapter 5W 1.0A Compatible for Apple iPhone / iPad / iPod
What's in the box:
1 x 3 Pin Plug Charger Adapter 5W 1.0A Compatible for Apple iPhone / iPad / iPod
Compare
Categories: Accessories, Accessories, Accessories, Adapters, Apple, Batteries & Chargers, Charging Head, Electronic, Iphone, Mobiles, Phone Accessories
Tags: Apple, Charger Head
Report Abuse
Other Available Vendor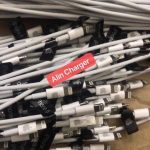 Metapro Global Resources
Use this ultra-compact and convenient USB-based adapter to charge your iPhone or iPod at home, on the road or whenever it's not connected to a computer. The adapter features a USB input cable port which allows you to attach any USB cable 30-pin or lightning for easy charging.
Compact & Lightweight
Featuring a new, ultra-compact design, this power adapter offers fast, efficient charging at home, in the office, or on the go. It works with any iPhone and all iPod models with a dock or Lightning connector. The 5W output of the adapter allows your devices to be charged quickly and therefore your devices can be up and running to be used in no time.
Only logged in customers who have purchased this product may leave a review.